When a mutual client suggested a collaborative project with Ted Ellison, I had no second thoughts as Ted is a great designer, a fellow Artistic License member, and I know that he understands the medium of textiles.
Theodore Ellison Designs had recently completed this wonderful set of doors for the client's bedroom renovation and the next project would be a duvet cover and pillow shams to co-ordinate.
Ted's design for the duvet cover arrived in my inbox. Now comes my task to translate the design into textile techniques. In keeping with the look of leaded glass I felt that the larger portions of the design would be best in stencil and the flower elements worked in hand embroidery. This also worked for the client's generous budget.
Next was the task of actually transferring the design onto fabric. Our typical stencils range from a few inches to a foot or so in size. How to make a stencil the size of a queen size bed?
Masking tape to the rescue! And much to my relief I discovered that artist's masking tape comes in various widths, as narrow as 1/8" which was perfect for some of the areas which needed to be masked off.
The main challenge was that our chosen fabric - Irish Linen in cream - is nearly the same color as masking tape, so it took special attention not to "color outside the lines" with the permanent stencil paints which would mean completely starting again from scratch. The stencil-gods were on my side and then it was time for my embroideress to take over and work her magic.

The last step was constructing the completed duvet and pillow shams - yes we do use sewing machines (they were invented in the 1790's so completely accepted as a tool of the trade by the Arts & Crafts era).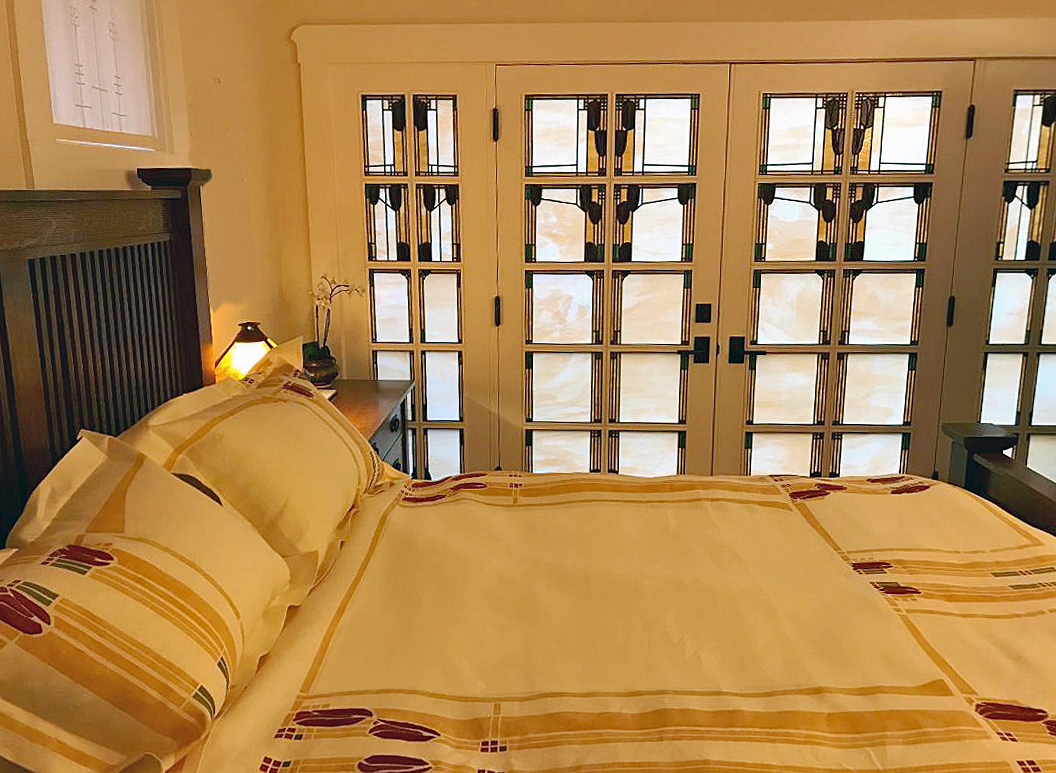 Many thanks

to wonderful clients and to Ted Ellison's amazing design skills!